You will arrive in Niue as a visitor and leave as a friend. Comprised of a large upraised coral atoll; a standalone island in the centre of a triangle of nations made up of Tonga, Samoa, and the Cook Islands. Niue is Located 2400km northeast of New Zealand, on the eastern side of the international dateline. The island's isolation and coral origins create an exciting coastline; there are no rivers or lakes which ensures crystal clear water year-round.
The whole island is dotted with a myriad of caves, sheltered rocky coves and secret beaches, some of which have yet to be explored. The Huvalu Rainforest is home to some fantastic indigenous trees. It has been designated as a Conservation Area to protect and conserve the islands primary rainforest and natural Flora and fauna.
Although Niue is a world apart, the island is easily accessible via a nonstop flight from Auckland on Air New Zealand. With an average water temperature of 23 degrees Celsius, a typical tropical climate and kind, caring people, you will feel the warmth year-round.
Niue will take your breath away with its unique geology, landscape and marine life Niue and is the world's first country to become a Dark Sky Place where you can view the spectacle of an unspoilt night sky illuminated by thousands of stars.
One of the most unique islands in the Pacific!
Choose a region in Niue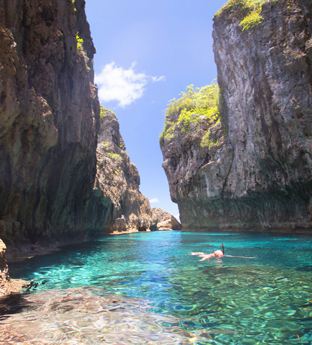 Classic Niue
Start planning your next trip today
Speak to one of our travel specialists and we'll create your personalised itinerary just for you.